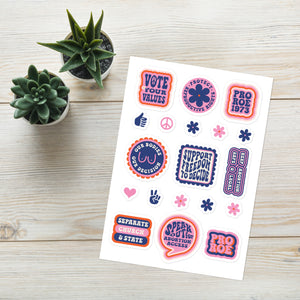 Artist Teresa Villegas was inspired and motivated to create these images because of the urgency of the reproductive rights issues we are facing here in the US. "As an artist and a designer, I'm in the business of visual storytelling, connecting, and inspiring action. Restricting, or outright eliminating access to women's reproductive rights would diminish women's personal and economic lives, as well as the lives of their families. We have to unite, hold our ground, and keep moving forward from strength to strength."

Product detail:

These glossy stickers are designed just for you. Give your favorite items, like a notepad, laptop, or phone case an extra glow and personal touch.

• Film type: MPI 3000 Gloss HOP (EU), Promotional Monomeric PVC (US)
• 0.12″ (0.3 cm) white sticker border
• Glossy finish
• Fast and easy application
• 2–3 year durability
• Indoor use (EU)
• Indoor and outdoor use (US)
• Blank product sourced from Japan

Don't forget to clean the surface before applying the stickers.