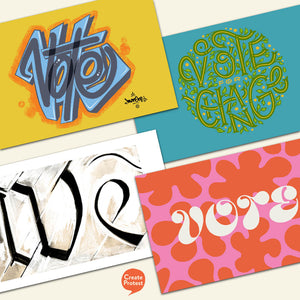 Back in Stock!
Our artists have created this set of four postcards to inspire action and change. Use them for writing postcards to voters or to inspire friends and family.

Each Postcard Pack includes:

100 postcards printed on 100 lb. recycled matte paper in Burbank, CA

25 each of the four designs
Sent in 100% recyclable Kraft mailer 

Free shipping!
Grab your favorite pen and start composing!
About the Artists

Los Angeles artist Stephen Glassman's design celebrates "We" as our most basic and universal agreement. Without it there is no nation. "We" is the first, largest and boldest word of our constitution. There is no "They." There is only "We." Stephen's work can be viewed at sgstudio.la.
Los Angeles artist Man One democratizes art and educates people about the unique value of graffiti art. His "Vote" image gives us all a way to share his inimitable style and encourage everyone to vote! View his work at manone.com.
Texas visual designer Yunuén Sigler loves designing band merchandise, protest signs and has a deep love for making letters: swirly, swashy, blocky, tall, thin. Yunuén is unapologetically politically involved, using her skills to fight back against injustice, inequality and inhumanity. Follow her at yunsigler.com.
Arizona artist Teresa Villegas believes strongly in the power of emotions and visual art. Her colorful "Vote" design harkensback to the bold patterns of the 60s and the activism of that era. See her work at teresavillegas.com